Pavers laid on Nuralite Paver Supports
Pavers laid on Nuralite Paver Supports
When constructing a floating deck or patio paving, The Nuralite range of paver supports incorporating Nurapads and Nurajacks provide the ultimate solution.
Nuralite Paver Supports allow the paving tiles to be easily removed in future if necessary, and, being height adjustable, they also allow the tiles to be raised up to the level of the living space to create the desired indoor/outdoor flow.
Nurajacks are the only floating deck jacks with a self-levelling head. This means your deck will be easy to lay, without the hassle of using shims or wedges to get a perfectly level deck, and without any risk of point-loading which may damage your critical waterproofing membrane.
The unique feature of a Nurajack is its self-levelling head. No deck is built level – the underlying slope and membrane lap-joints challenge the best tiler. With other deck-jacks they must resort to placing ad hoc shims under the base of the jacks.
Veneto pavers on self leveling Nuralite supports

Nuralite Paver Support Options
This has the potential to damage the membrane through point loading. With Nurajacks, clients get a level deck every time. The deck load is evenly spread on the Nurajack's wide base, ensuring that the integrity of the membrane is maintained, and that the unit remains stable under loading.
Veneto Example
Terrazzo Veneto Honed Paive pavers laid over a range of Nuralite paver supports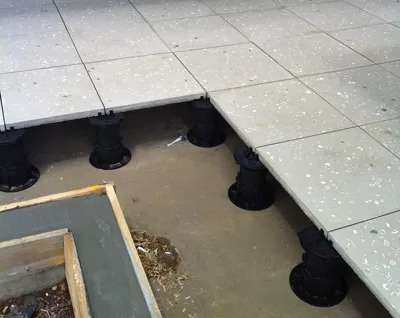 Piave Veneto Pavers over Nuralite Paver Supports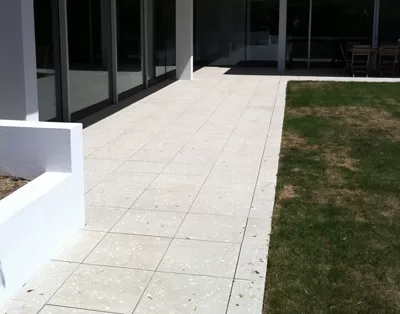 Piave-on-Pedestals completed