installation instructions
Now that you have found a great paving product you have the choice to make, are you going to install the pavers your self or will you be employing the services of a professional?
For those that elect to do it themselves Horizon has produced a comprehensive guide to installation. See below to view this. Or select from
our list of Recommended Installers
Why use a recommended installer?
Horizon has an extensive network of approved installers throughout New Zealand, the use of an approved installer has two benefits:-
Piece of mind, you are useing a reputable installer who provides a quality installation.
Use of an approved installer provides you with a five year product guarantee, Click to see our recommended installers
The Image above shows the Veneto Bragato Image with the addition of the two Guard It Sealers, the first image is in a dry state, the second image after the addition of a potentially staining material. From the images, you can see the protection afforded to the paver by sealing with either a wet or dry seal.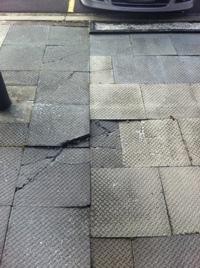 Incorrectly Installed Pavers